Sorcus Balkon is a former Aura Enchanter who was corrupted during a battle and transformed into a servant of The Enemy with powers like those of a strong Enchanter, but appearing darker and reddish-orange due to being powered by Chaos instead of Creativity. He is the first major boss you encounter, and is on a rock island, apparently charging up his Chaos energy. Andar the Blue gives you a mission to go to this rock island and stop him from (whatever he's trying to do.)
Boss Fight
Edit
The Sorcus Balkon Battle is a three-person instance. When you land in the instance, you find yourself on a rock island with two unnamed Aura members concentrating on keeping a small rock moving between your larger "island" and the other one. On this rock, you see a mysterious, glowing orange, evil-looking Minifigure with a wizard hat. He seems to be sucking in Chaos energy. Around his island, a few small rock chunks are hovering in midair.
(Boss Fight Gameplay Description Goes Here)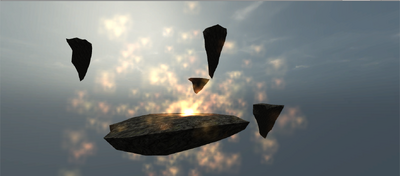 Ad blocker interference detected!
Wikia is a free-to-use site that makes money from advertising. We have a modified experience for viewers using ad blockers

Wikia is not accessible if you've made further modifications. Remove the custom ad blocker rule(s) and the page will load as expected.